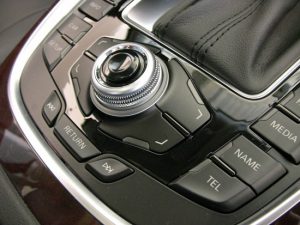 As your probably aware already Audi's suffer from a design fault where the MMI control panel and the cup holder are very close together which means if drink is spilled it can cause the control panel to stop working. We can replace and repair all control units fitted onto Audi vehicles which operate the MMI system 2G or 3G units.
Common faults
Some of the buttons stop working and you can't select or page in
Some or all of the LED lights fail which means the control panel no longer illuminates
Unit turns on but none of the buttons work and then system restarts
How our service works if you are based within London we are able to offer a mobile service where we come to you and replace and fix the control unit on the Audi MMI system. We'll ask you a few questions over the phone to make we know which unit is to blame for your system not working as it should.
If you are based outside London you can drive to us and we will get the work require carried on in SW4 London.
We repair most faults with replaced to Audi MMI entertainment systems which relate to the control panels, if you have a different issue feel free to call us and we are more then happy to advise you on what needs doing to repair your fault.
If any have any more questions feel free to contact us on 07946845828
Frequently asked questions:
My MMI system boots and then turns off?
Yes, We will be able to repair the unit.
I've spilled drink all over the MMI buttons could this have caused a fault? 
Yes we can repair the fault.